[NSV-313]
Vyvamind*
Vyvamind [NSV-313] is a natural fast-acting, broad spectrum over the counter neurostimulant for high-performance adults.

Specifically designed for use in mentally demanding situations, Vyvamind is ideal for students, programmers, traders, and anybody else who needs to stay 'locked in' while burning the midnight oil.
ORDER NOW
Countless applications with minimal side effects:
Unparalleled focus and clarity
Feel energised, remove mental fatigue and harness maximum brain power.
Increased motivation and drive
Start to 'do'. Think deeper for longer. Solve problems and still sleep soundly at night.
Stress and anxiety support
Protect your brain and create a brighter future for yourself.
Rapid onset brainpower boost
Instant long lasting effects when you need them most.
Advanced burnout protection
Make mental fatigue and down days a thing of the past.
Choose the Vyvamind package that's right for you
Note: Some of Vyvamind's benefits compound over time. Users will typically find that 2-3 months or more of consistent Vyvamind use is far more effective than taking it infrequently. For best results and maximum effect we recommend continuous use for 3 months or longer.
Industry Best
Prices
Fast and discreet
shipping
Massive
Multibuy Savings
Made in an FDA
inspected facility
1-MONTH SUPPLY
CHEAPEST OPTION
RETAIL:

$80
$74.99
Savings:$5.01
60 Capsules
Fast and Tracked Shippping
3-MONTH SUPPLY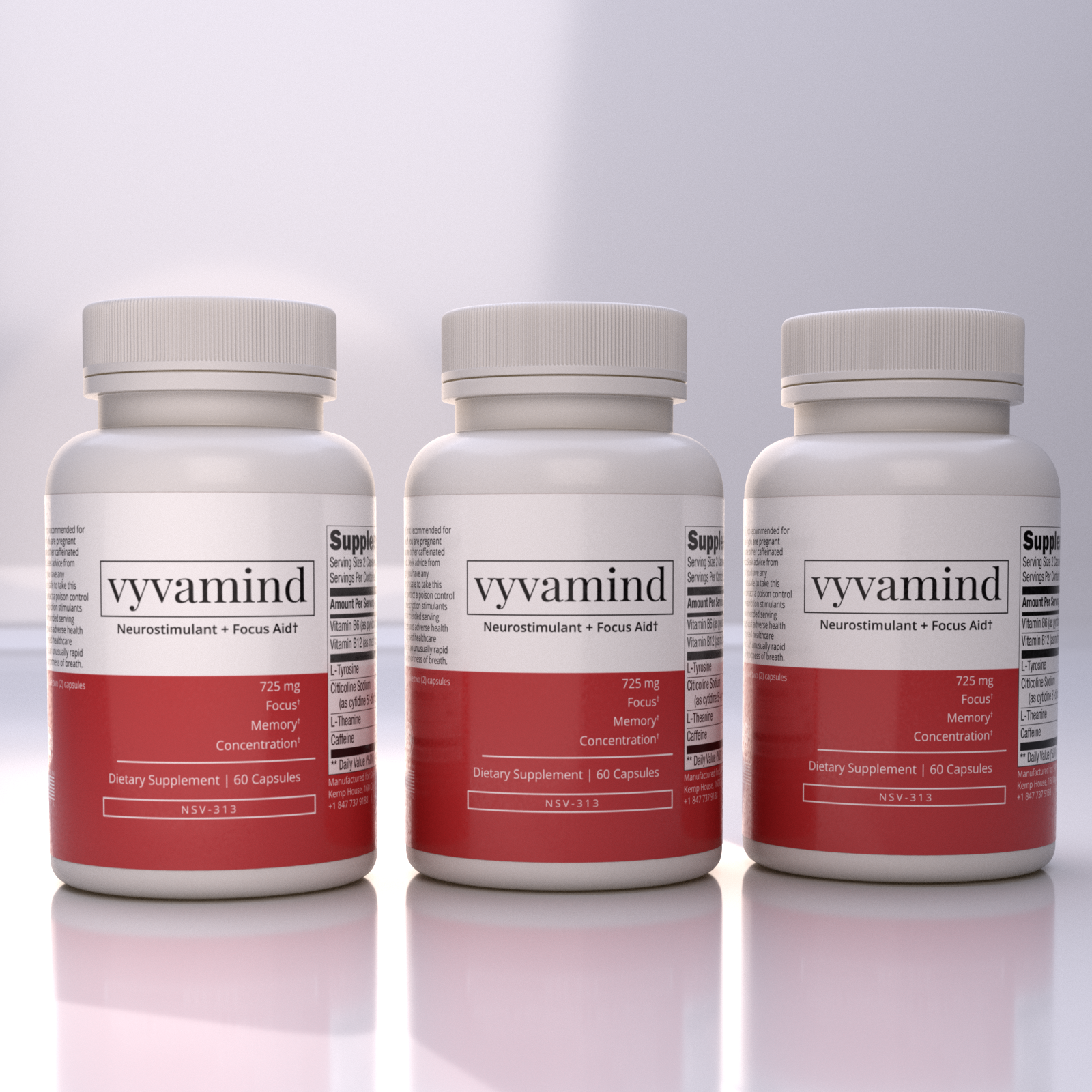 BEST DEAL
RETAIL:

$240
$207.00
Savings:$33.0
180 Capsules
Fast and Tracked Shippping
2-MONTH SUPPLY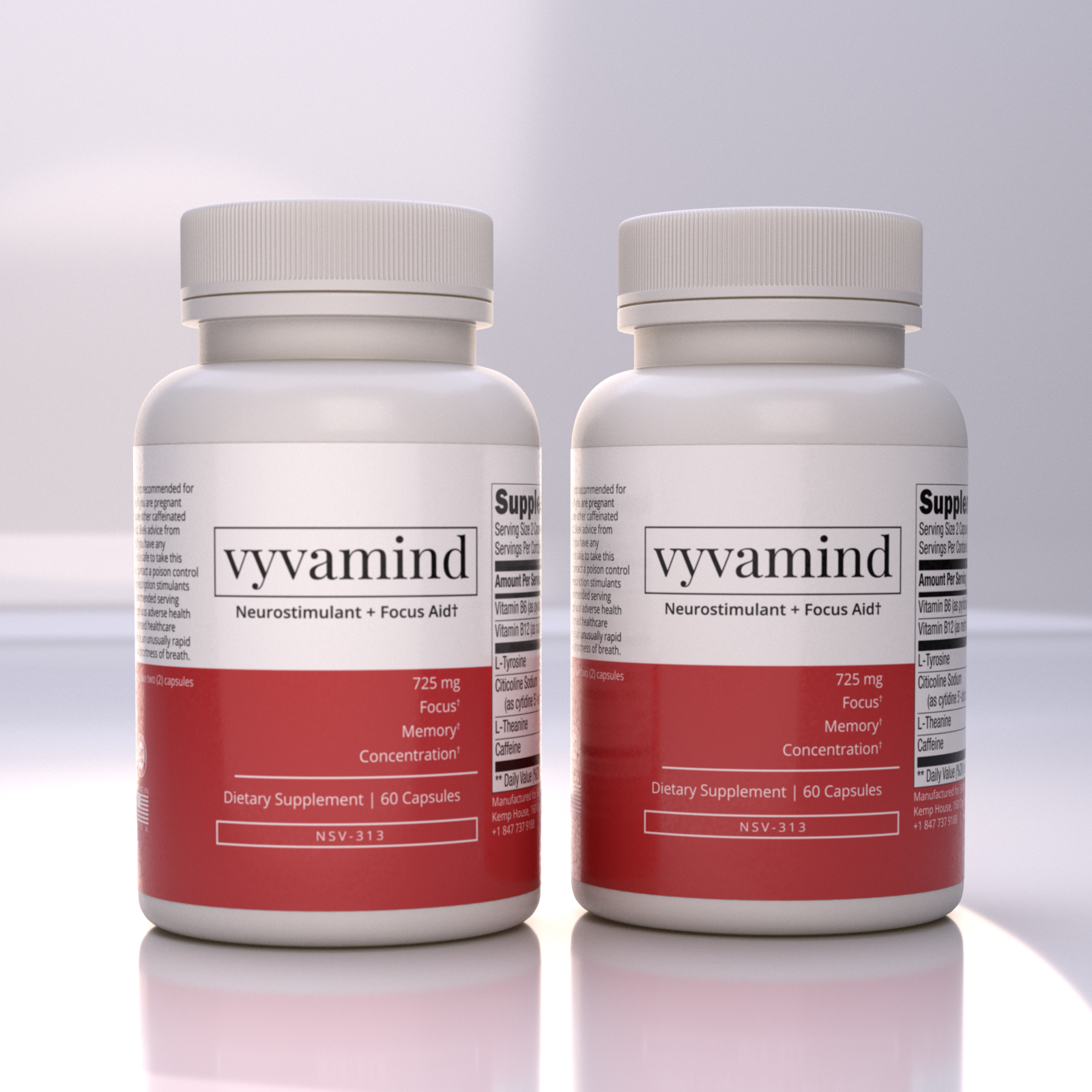 STANDARD
RETAIL:

$160
$139.98
Savings:$20.02
120 Capsules
Fast and Tracked Shippping
100% NATURAL, 100% BRAINPOWER
Ingredients in Vyvamind have been clinically proven to increase brain energy by 14%, cell membrane formation by 26%, and to significantly improve performance in memory, visual tracking and reaction speed tests. All of this is combined with a subtle shot of caffeine to eliminate fatigue and boost productivity.
Trusted by High Performers Like You
Vyvamind is a complete nootropic providing top-to-bottom brain support when you need it most.
Although it was initially created for students and busy professionals, we've learned that Vyvamind is perfect for anybody looking to rapidly increase focus, learning and processing speeds without relying on harmful drugs or prescription stimulants.
Who benefits from using vyvamind:
Traders and financial analysts
Entrepreneurs and business professionals
Academics and college students
Athletes looking for a critical edge
Professional gamers
Anybody with low motivation and low mental energy
People with short attention spans
People who have difficulty learning and staying focused
Warning:
*For use by healthy adults only, not recommended for persons under the age of 18. Do not use if you are pregnant or nursing. Individuals should not consume other caffeinated products in conjunction with this product. Seek advice from a healthcare professional before taking if you have any preexisting medical condition to ensure it is safe to take this product. In case of accidental overdose, contact a poison control center immediately. Avoid alcohol and prescription stimulants while taking this product. Exceeding recommended serving will not improve results and may cause serious adverse health effects. Discontinue use and contact a licensed healthcare professional immediately if you experience an unusually rapid heartbeat, dizziness, severe headache, or shortness of breath. Vyvamind is not a substitute for medication prescribed by a healthcare professional. Vyvamind should not be taken alongside medication. The recommended dose of Vyvamind per day is 1 capsule. Do not take more than 2 Vyvamind capsules in any 24 hour period. Taking more than the recommended dose of Vyvamind drastically increases the risks of side effects KEEP OUT OF THE REACH OF CHILDREN.
Natural ingredients with pharmaceutical power.
Vitamin B6 (as Pyridoxine HCl) 2.5mg 147%*
Vitamin B12 (as Methylcobalamin) 50mcg 2083%*
L-Tyrosine (4-hydroxyphenylalanine) 300mg **
Citicoline (cytidine diphosphate-choline (CDP-Choline)) (cytidine 5'-diphosphocholine) 200mg **
L-Theanine (L-y-glutamylethylamide) 150mg **
Caffeine Anhydrous (1,3,7-trimethylxanthine) 75mg **
*Daily Values based on a 2,000 calorie diet
**Daily Value Not Established