Vyvamind Reviews and Consumer Feedback
We're very proud of what we've created and love hearing from our customer base. Our team of neuroscientists have used constructive criticism to constantly continue improving Vyvamind - up to the current 4.2.1 version that helps all of our customers today. 
Below you'll find Vyvamind reviews as quotes from customers who have used Vyvamind for at least 30 days to study for an exam, or for long periods to focus every day at work and achieve results. 
Ultimately, these Vyvamind reviews are from people who have been struggling wtih various issues surrounding fatigue, mental burnout and a lack of focus, and have benefitted from Vyvamind.
---
"As someone with ADHD, these are a lifesaver! I take my immediate release in the mornings but by 1-2pm I start to feel sluggish again.. So this focus aid was the perfect solution for me! It works quick and I'm back on track until work ends. Definitely worth a try if you're looking for that extra boost of focus and energy!"
"Ever since I tried Vyvamind, it's been a game-changer for me. Seriously, I'm way more dialed-in now. My focus is on point, I'm remembering things like never before, and long tasks don't wear me out like they used to. Girls, if you're looking for a mental boost, I can't recommend Vyvamind enough!"
"As someone who needs to stay focused for extended periods of time, sometimes having a little boost makes all the difference. Vyvamind's supplement is a handy tool that was made with that purpose. The product is well made and you can tell it was designed with care. If you are trying to stay concentrated for longer and be mentally sharper, it might be worth looking more into this."
"Hi I am Alandise Harris, Professional Basketball Player & Founder Of Burrnationk9s. I find the vyvamind product extremely helpful for anyone that's having issues focusing anywhere in life. This Product works FAST! Key things I love most about the product since I've been using it is it IS NOT ADDICTIVE, That's a big one when it come to taking any type of distant supplements, also increases your will power, it boost your motivation and help you reduce anxiety. Those are big for me as an athlete and business owner, I have to keep my mind in the game and on the prize thanks for making such a lovely product."
"I own an online boutique as well as care for my 18 month old daughter and many days I hit an afternoon slump. Vyvamind helps me stay focused and energized to serve my customers well each and every day. I like that this supplement helps me concentrate without the jitters that coffee often gives me. I've been taking Vyvamind around 1 pm after my lunch, and feel energized through the afternoon. I also recommend this for moms that feel scatterbrained."
"I've been using Vyvamind for a few weeks now and love it. I'm a DJ and fitness trainer, so energy and clear focus is essential to my lifestyle. Vyvamind helps stay locked in during my sets and group classes, despite many potential distractions. Beforehand, there were many instances I can remember having low energy and brain fog and wondering if vitamin deficiency was the problem. I've seen much improvement since using the product. Thanks Vyvamind!"
"I started taking Vyvamind because I tend to lose focus after lunchtime with my work, and read that it is not only a neurostimulator but also helps with focus. All of the ingredients are natural vitamins and minerals, and I noticed a noticeable difference in my ability to stay focused and concentrate on my work. This has been a game changer for me - I highly recommend checking it out!"
"Vyvamind pills are awesome for the people who are both lacking energy and can't find the motivation to get task done and it's also for busy entrepreneurs like myself that just want to keep a clear mind, and stay focus at the task at hand or simply want to keep grinding to get more work done. Vyvamind tends to work better and better as time goes on. Just like anything else, it takes consistency to get results. I started out with one bottle and its no saying how many more I'll have in the future."
Choose the Vyvamind package that's right for you
Note: Some of Vyvamind's benefits compound over time. Users will typically find that 2-3 months or more of consistent Vyvamind use is far more effective than taking it infrequently. For best results and maximum effect we recommend continous use for 3 months or longer.
Industry Best
Prices
Fast and discreet
shipping
Massive
Multibuy Savings
Made in an FDA
inspected facility
1-MONTH SUPPLY
CHEAPEST OPTION
RETAIL:

$80
$74.99
Savings:$5.01
60 Capsules
Fast and Tracked Shippping
3-MONTH SUPPLY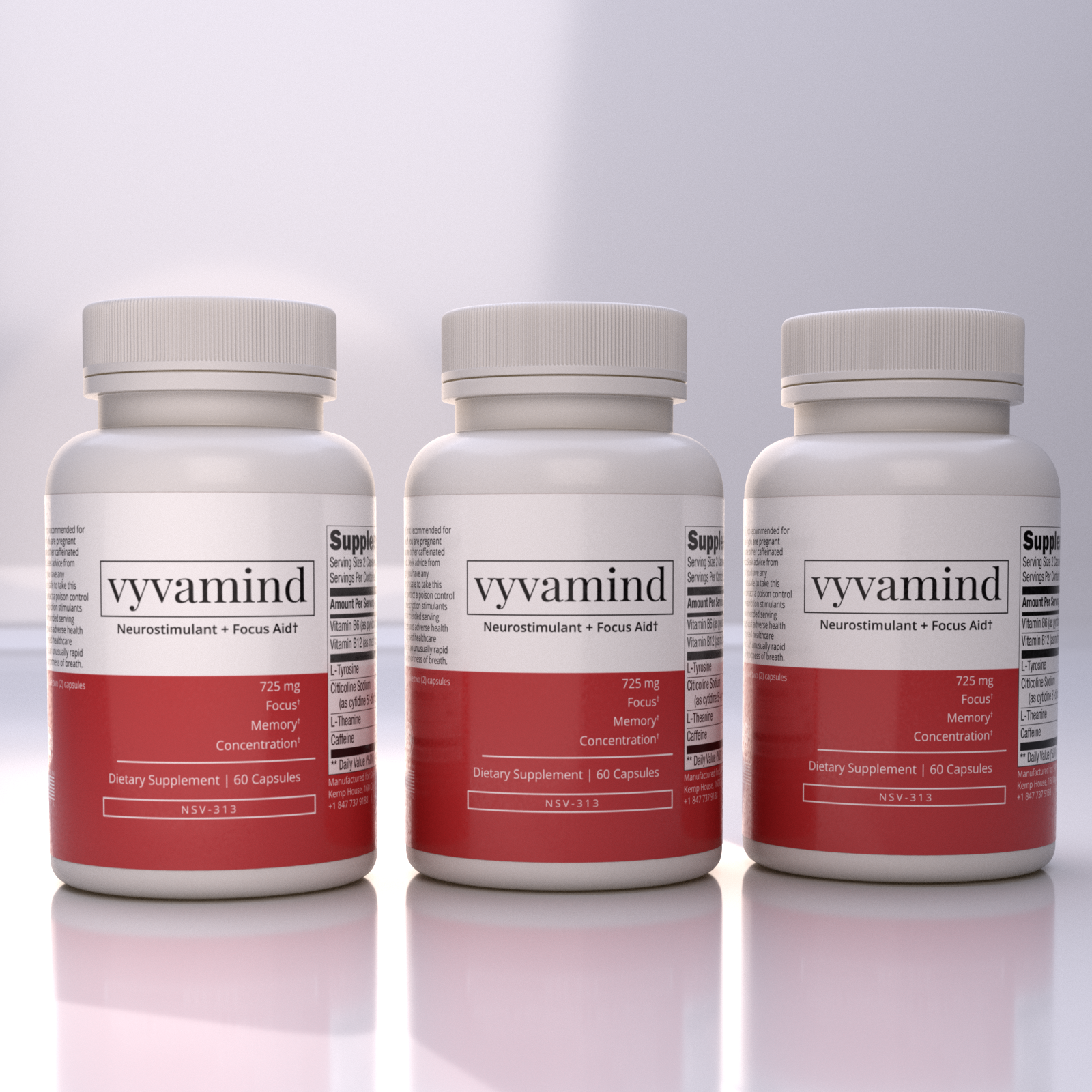 BEST DEAL
RETAIL:

$240
$207.00
Savings:$33.0
180 Capsules
Fast and Tracked Shippping
2-MONTH SUPPLY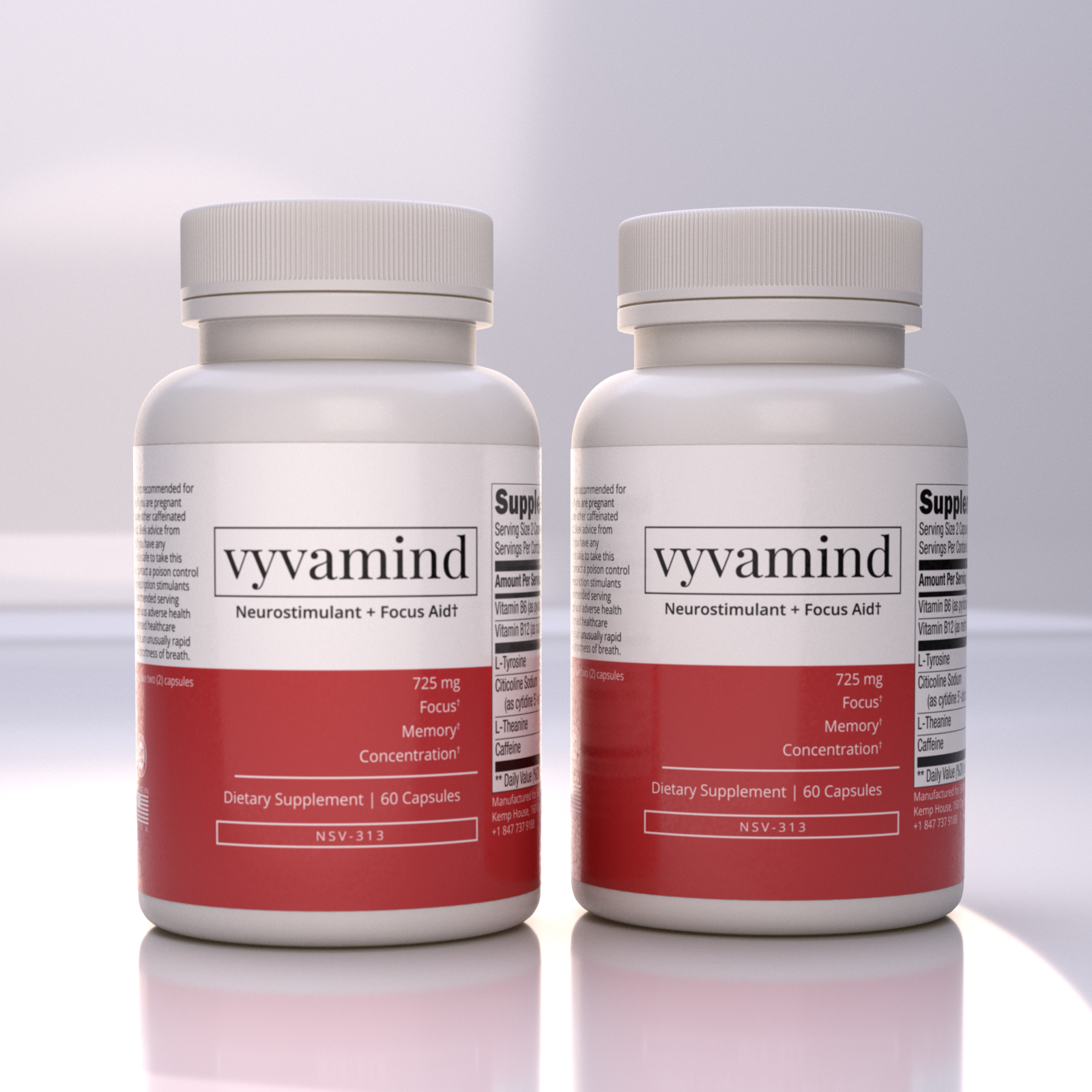 STANDARD
RETAIL:

$160
$139.98
Savings:$20.02
120 Capsules
Fast and Tracked Shippping